Göran Gustafsson lecture in medicine
Welcome to this year's Göran Gus­tafs­son lecture in medi­cine. Every year, Uppsala University, together with the The Göran Gustafsson Foundation for Research at Uppsala University and KTH, invites an inter­national­ly renowned research­er in medicine to give a lecture.
The 2022 GÖRAN GUSTAFSSON­ Lecture
Mental health – One of the greatest challenges of our time:
Symposium with the 2022 Göran Gustafsson Lecture in Medicine.
This year's lecture is part of a larger symposium in collaboration with Uppsala University's centre for women's mental health, WOMHER. Göran Gustafsson lecturer and key note lecturer is Professor Ned H. Kalin, Chair of the Department of Psychiatry at the University of Wisconsin School of Medicine and Public Health.
Read more about Professor Ned H. Kalin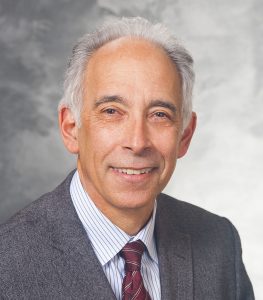 Time: Thursday 24 March, 13:00–17:00
Place: The Humanities Theatre, but be aware of any changes due to changed restrictions and conditions.
Registration: Registration is required for participation both digital by zoom or physical. Click on this link for registration.
Other: The Göran Gustafsson lecture is given in English. The rest of the symposium is in Swedish
The 2022 Göran Gustafsson Lecture in Medicine
"Anxiety and Depression in Childhood; Studies on Underlying Circuits and Molecules"
- Professor Ned H. Kalin
The lecture is given in English.
Other lecturers
The lectures are given in Swedish.
"Psykiatri igår, idag och i morgon"
- Professor Lisa Ekselius

"Stigma vid psykisk sjukdom – det kan vi klara oss utan"
- Docent Åsa Konradsson Geuken

"The immune system in psychotic disorders - what does molecular brain imaging tell us?"
- Professor Simon Cervenka

"Den rädda hjärnan"
- Docent Andreas Frick

"Hjärnan, kön och hormoner"
- Docent Erika Comasco

"Graviditet – en potent trigger av psykisk ohälsa?"
- Professor Alkistis Skalkidou

"Artificiell intelligens inom framtidens psykiatri"
- Docent Fotis Papadopoulos
Göran Gustafsson – a true philanthropist in the world of science
Göran Gustafsson was born in the far north of Sweden. Becoming a successful businessman, notably in real estate, Göran Gustafsson created the economic basis for his donations to two foundations that promote basic scientific research. Through these donations, Göran Gustafsson's vision was to provide Swedish researchers with the required conditions for competing with the best researchers in the world.
In 1986 Göran Gustafsson created a foundation to support basic research in the field of medicine at Uppsala University and in the field of engineering physics at both the Royal Institute of Technology (KTH) and Uppsala University. The Göran Gustafsson Foundation for Research at Uppsala University and KTH started with a donation of 136 million Swedish SEK and currently Awards 14 million crowns in grants annually.
In 1989 The Göran Gustafsson Foundation for Research in Natural Sciences and Medicine was established, with a donation of 270 million SEK. Today the foundation makes awards of approximately 27 million SEK annually. The primary objective of this foundation is to promote basic science in molecular biology, physics, chemistry, mathematics and medicine.
In an interview in 1993, Göran Gustafsson explained why he sold his property portfolio and donated more than SEK 400 million to foundations, where the return goes to rewarding outstanding researchers:
"The money has been my tools. When the craftsman retires, he leaves the tools for those who can best take over. I want to create conditions for researchers to develop methods that improve nature and our environment. I feel bad when I think about the environmental damage that we have contributed to. This is a thank you to the society that gave me the chance!"
Göran Gustafsson's efforts have not remained unpaid, already in 1987 he received the Uppsala University Gustaf Adolf medal. The same year he was made a technology honorary doctor at KTH. When King Carl XVI Gustaf and three other friends of Uppsala University were awarded the title of honorary member of Uppsala University in 1990, Göran Gustafsson was one of the three.
Last modified: 2022-03-01